Details
"Let no one think we can relax our efforts in research." —Norman Borlaug, Nobel Prize speech (12/11/70)
Stat-Ease, Inc. welcomes you to version 12 of Design-Expert software (DX12) for design of experiments (DOE). Use DX12, on Microsoft Windows and Apple macOS, to optimize your product or process. It provides many powerful statistical tools, such as:
Two-level factorial screening designs: Identify the vital factors that affect your process or product so that you can make breakthrough improvements.
General factorial studies: Discover the best combination of categorical factors, such as source versus type of raw material supply.
Response surface methods (RSM): Find the optimal process settings to achieve peak performance.
Mixture design techniques: Discover the ideal recipe for your product formulation.
Combinations of process factors, mixture components, and categorical factors: Mix your cake (with different ingredients) and bake it too!
Design and analysis of split plots: Make your experiment far easier by grouping hard-to-change process factors and/or mixture components
Logistic Regression for analysis of binary data: Is your process pass/fail? Are you measuring the presence or absence of something? You can now analyze those responses using logistic regression, so you can make predictions about the probability of an event at a given set of inputs.
Your Design-Expert program offers rotatable 3D plots to easily view response surfaces from all angles. Use your mouse to set flags and explore the contours on interactive 2D graphs. Our numerical optimization function finds maximum desirability for dozens of responses simultaneously!
You'll find a wealth of statistical details within the program itself via various Help screens. Take advantage of this information gold-mine that is literally at your fingertips. Also, do not overlook the helpful annotations provided on all reports.
For a helpful collection of checklists and 'cheat sheets,' see the Handbook for Experimenters. It's free to all registered users. Furthermore, for a quick start on design and analysis of experiments—keeping things simple and fun (unlike most other statistics texts), we recommend you read:
They are available for purchase on the Stat-Ease web site, via Amazon, or directly from the publisher—Taylor&Francis/CRC/Productivity Press (New York, NY).
Logistic Regression for Binary Responses
When results can only be binomial, for example; 0 or 1 for pass versus fail, standard model-fitting falls short. Logistic regression works far better by predicting the probability of success or failure, as shown in the plot of a surface-to-air (SAM) missile test.
"The development work that we do at my company often requires 0/1 assessments. This will be a tremendous help for us."
– Jason Pandolfo, Development Chemist, Quaker Chemical
Kowalski-Cornell-Vining (KCV) models
Experiments that combine mixture components (such as a cake recipe) with process factors (baking conditions, for example) require too many combinations when fitted to traditional crossed (mixture x process) models. By eliminating superfluous high-order terms, KCV models greatly reduce the number of required runs, with appreciable savings in time, materials and money.
3D Scatterplot
Rotatable 3D scatterplots (shown) and other enhancements make it easier than ever to visualize your raw data before digging deep with Design-Expert's powerful modeling tools.
Histogram Plot
In the Graph Columns node there is a new Histogram graph option. You can customize the number of bins, and choose to display frequency, density, or proportion on the Y axis.


Graph Notebook
The single-graph view in the Model Graphs tab has been replaced with a notebook. Lay out multiple graphs on one screen to provide a compelling at-a-glance view of your modeled responses.
New Contrast Options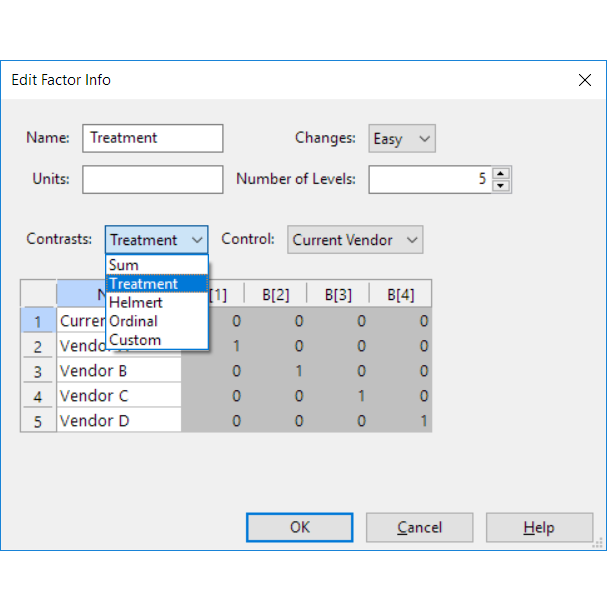 New contrast options are available for categoric factors. This includes Treatment contrasts, which allow you to directly compare the effect of the different categoric levels with a reference level.
Even more new features in DX12
Logistic Regression
Works for any response that consists of two values, not just responses with only 0s and 1s.
Chi-squared tests provided for model-term significance.
McFadden, Adj. McFadden, and Tjur pseudo-R-squared statistics added to assess models.
Optimization provides criteria based on the probability of success or failure.
Level for what's considered a "success" is configurable.
Confirmation tools supported.
Interface
The font size configurable in the simulation editor.
Icons added to the new graph menus.
The factors tool provided in optimization graphs for single factor designs.
3D surface graph titles now editable.
Model graphs upgraded to a notebook interface.
All graphs now feature dockable legends that can be moved independently.
Legend can also be docked to the right or bottom of the graph via the right-click menu.
Elements in the legend can be toggled individually via the right-click menu.
The font size of the legend can be increased or decreased by hovering over it, holding control, and using the mouse scroll wheel.
A histogram of any column of data can be generated in the Graph Columns node.
You can set a third axis on the Graph Columns scatterplot to make it into a 3d scatterplot.
The Cube plot can be toggled between observed and predicted values.
Pairwise comparisons when clicking on a point in Interaction or One Factor plots are now available in a separate toolbox.
Categoric Coding
Categoric variables can now use Helmert contrasts, which compares each level to the mean of the remaining levels.
Treatment contrasts, which compares each level to a user-selected control or reference level are also now available.
Ordinal contrasts no longer need to be numeric; when not so they are assumed to be evenly-spaced ,e.g.; "Low", "Medium", "High".
ANOVA displays the choice of contrast types.
Previous feature documents:
Tutorials
For the latest tutorials, please visit our tutorials page:
System Requirements
Design-Expert 12 (Single User or Network Client)
Component
Minimum
Processor
1 GHz
Hard Drive
250 MB free space
RAM
2 GB
Display
1024x768
Operating System

Windows 7 SP1 or
Windows 8, 8.1 or
Windows 10
OSX 10.11 (El Capitan)
macOS 10.12 or higher
Server for Network Version (License Manager)
Component
Minimum
Processor
1 GHz
Hard Drive
250 MB free space
RAM
2 GB

Operating System

 

On a server:

Windows Server 2008
Windows Server 2012
Windows Server 2016
Linux

Or a workstation:

Windows 7 SP1
Windows 8, 8.1
Windows 10

Network version requires installation of the Reprise License Manager (RLM) as a service.

May be installed on a virtual server that is assigned a static ethernet MAC address.